It's a sitting week, so without further ado, here's the week in retrospect:
Fired up
There were whoops of delight as Andrew Little's Healthy Homes Bill passed its first reading on Wednesday night. The bill makes it compulsory for all rentals to have efficient insulation, heating and ventilation. As expected National and Act voted against it, siding with those landlords who care more about bottom lines than tenants' health, rather than the tens of thousands of kids who are ending up in hospital because of cold, damp living conditions. 
The Greens, New Zealand First, and the Maori Party supported it, with the one vote that got it over the line coming from United Future's Peter Dunne. Shout out too, to the Children's Commissioner, Child Poverty Action Group, numerous student and health groups, and over 30,000 Kiwis who signed our open letter. While there's still a few hoops to go through - the Bill now goes to select committee for public consultation – we're a step close to ensuring everyone in a rental home, whether State or privately owned, is living in a warm, dry house.
Andrew Little's Healthy Homes Bill 'a big win for Kiwis
Govt's insulation standards 'woeful'
Govt must act swiftly on rental homes
War torn
Andrew Little's "secret" visit to Kiwi troops on deployment in Iraq last week was followed by a first-hand recce of a refugee camp in Jordan. The experience left him even more committed to increasing the number of refugees New Zealand takes each year.  Escorted around the camp by the local police, he visited a medical facility and talked with a number of the 80,000 refugees, who had wound up in the camp after fleeing the long-running Syrian civil war. As he told media: "We just came away saying that if there's any way we can relieve the stress and the pressure that these folks are under, then we should do it." While many wanted to return to Syria, "in their heart of hearts they know that's a long way away".
Andrew Little 'shaken' by Syrian refugee camp
Labour commits to doubling NZ refugee quota
Questions from Iraq
 How long have you got?
The he said/he said Ken Whitney/John Key affair gets more ridiculous (or should that be incredulous?) by the day. In 2014 Whitney, Key's long-time lawyer, concerned someone might be about to rein in the foreign trust industry, wrote to then Revenue Minister Todd McClay saying the PM had told him the government had no plans to change the status of the foreign trust regime, and that the PM had asked him to contact McClay. The Minister set up a meeting with Whitney and his industry mates (the next day! How is that for service?). Lo and behold a few months later, McClay canned the review IRD had begun working on. Coincidence much?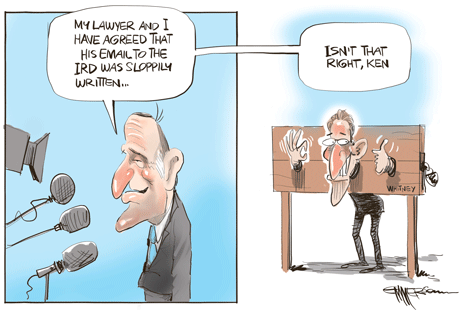 Key, as usual, has tried to shrug it off, saying the conversation with Whitney had been misinterpreted, that he was not concerned about perceptions of some vested interests having special access to the Prime Minister to exert influence, and that he saw Whitney (whom, it's since emerged, he met at ante natal classes - you couldn't make this up) as just like anyone else who might come up and chat to him in the Koru lounge. Meanwhile poor Todd couldn't remember much about it at all, but John had some very definitive memories of what he told Todd about Ken. Much clearer than 1981. Oh, as they say, Puhleese. Meanwhile it also emerged this week that Whitney helped set up a blind trust described by a High Court judge as a "sham" for a bankrupt property developer. It looks like the circus will be in town for a bit longer.
Key needs to stop shifting and come clean
Key says Ken Whitney's email "sloppily written"
John Key's lawyer linked to 'sham' trust involved in failed Auckland property development
On that note
In the spirit of NZ Music Month (May) we asked some of our MPs to name their favourite Kiwi song. Jacinda Arden gave us three (typical DJ), Grant Robertson, ever the numbers man, stuck to the formula.
Jacinda's picks: Lead me to the light by Great North. Listen, and you'll see why I love this one. It's just beautiful.
Bathe in the River, written by the wonderful Don McGlashan and sung by Hollie Smith, such an amazing combination.
It's Love by Chris Knox. The Finn family do a version of this song that you can't help but be happy listening to. I ended up playing it at Laneway - looking out at a silo full of happy dancing people was amazing.
Grant's pick: Slow Sad Love Song by The Verlaines. Growing up in Dunedin there were so many opportunities to hear and see music. Listening back, for me, the so-called Dunedin Sound is still the best music I have ever heard. I could have chosen any number of tracks from bands like The Clean, Double Happys, The Chills, The Bats and more, but this song is still one that can get me thrashing around on the dance floor and recalling many nights enjoying the song writing and musical talent of Graeme Downes and the Verlaines.
Mine: Welcome Home by Dave Dobbyn. It perfectly captures the kindness of Kiwis. 
Lights, camera…
An MP's diary can be a thing of wonder – back to back social events, speaking engagements, select committees, baby kissing, envelope opening. The last is something National's Simon Bridges may well be working towards if a recent media advisory is anything to go by. It had him trumpeting his role in the 'official opening" of runway lights at Queenstown Airport. Aussie-based newsite EntreHub had a field day with it, gleefully pointing out that on a dull news day, this was a pearler.  
Say what?
I am the acting acting leader of the House and therefore a low form of parliamentary life...
Oh dear, the master of understatement Attorney-General Chris Finlayson lays on the misery as he steps into the role of third in line to the LotH on Wednesday. The real one, Gerry Brownlee, and his first lieutenant Simon Bridges were elsewhere.