Week That Was: Backing our regions!
Our new Week That Was series will give you a round-up of all the achievements, announcements, and other political goings-ons around Parliament and across the country over the past week. We're proud of all we're doing to make New Zealand a great place to live - and we want to share it with you!
While recess week had Wellington feeling pretty quiet, there's been plenty going on around the country. This week, we cast our eyes back on a two major announcements for Dunedin and the West Coast under the Provincial Growth Fund, submissions for the Zero Carbon Bill, a Local Government Conference, and more...
---
This was a big week for the South Island.
On Thursday, our Provincial Growth Fund announced investment in a bold, new vision for Dunedin's Waterfront, which will see the space completely reimagined. The plan includes an array of signature buildings, including a hotel and residential accommodation, and will connect to the town centre, the university, and the stadium with walkways, cycleways, and a bridge. This new space will likely attract a range of new businesses and become a major focal point for the city.
We're also investing into wider Otago with the development of Otago's Economic Development Strategy. We're making sure council groups across the region are working together to assess every opportunity and develop the region to its fullest potential.
The West Coast is also receiving a boost from the PGF. This boost will go to a number of "feasibility studies" – basically making sure certain developments or upgrades are possible, and looking at how best to go about them.
Damien O'Connor, MP for West Coast and Minister for Rural Communities, and Minister for Regional Economic Development Shane Jones ahead of the West Coast PGF announcement
We're looking at upgrading the Westport Port and the Port of Greymouth, and investing in passenger rail between Westport and Hokitika, which has huge potential and would help build West Coast tourism. We're also investigating the redevelopment of the Greymouth township and the community of Punakaiki.
We're focused on supporting our regions to grow and thrive – our PGF continues to be a testament to this. We look forward to keeping tabs on these and other developments in our regions in weeks to come.
---
In other news, this was also the last week of submissions for the Zero Carbon Bill. In total, we received 14,746 submissions - a staggering amount! This goes to show just how engaged and passionate New Zealanders continue to be about our environment and our response to climate change. We are proud that we place Kiwi voices at the centre of our decision-making.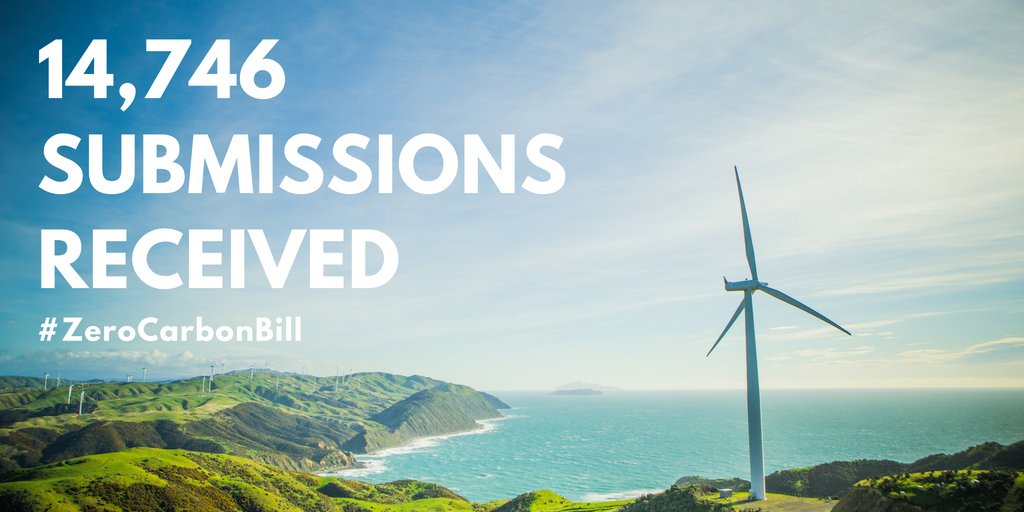 We know that the impacts of climate change are far-reaching, and go well beyond just an environmental issue – there are social and economic implications too. The Zero Carbon Bill is part of our long-term commitment to transition us to a low-emission, resilient economy – to look after both our environment and our economy for future generations. The Bill works alongside our other efforts, such as establishing an independent Climate Change Commission, to keep up on track to reach our goals.
---
Also this week, Minister of Finance Grant Robertson attended the Local Government Conference held in Christchurch. The theme this year was "Firmly focused on the future: "Future-proofing for a prosperous and vibrant New Zealand." Addressing the almost 600 delegates who attended, including key players from both public and private sectors, Robertson relayed a message from Prime Minister Jacinda Ardern, currently on maternity leave:
"I have said many times before - the ambition that this Government has for New Zealand, and the vision I know that you have for your communities, can't be achieved by acting alone.
"We've all agreed on what we want our priorities to be - climate change, water, regional development and housing. To make progress on those at the local and national level we need a strong relationship and I'm committed to that, as is our entire Cabinet."
The speech also included an announcement that the Productivity Commission will hold an inquiry into Local Government funding and financing.
---
Lastly, feedback has continued to roll in about last week's housing announcements. (If you missed last week's blog, take a look here). Here are just a select few about our plan for Māngere. Take a look:
---
That's it for this week! Tune in next week to keep up-to-date on all the latest buzz around the Beehive and everything else happening around the country.